The Burley Ambience 4121 Flueless Gas Stove
Made from cast aluminium, the 3.5kw Burley Ambience flueless gas stove will compliment any home.
One of the key benefits of the Burley Ambience is that it is a flueless gas stove so does not require a chimney or flue as it can be positioned on a flat wall.
Minimum room size required for the Ambience is 40m3 and an air vent which provides not less than 100cm2 free air must be installed in the room, at least 1 metre away from the fire
Any waste gas produced, passes through a catalytic converter giving a 100% efficiency rating, allowing the 4121 Ambience to burn extremely cleanly.
Available only in black, the Ambience comes with a log fuel effect bed and a one-year guarantee.
These products are only available in store, they are not available to purchase on the internet
This product is compatible with the following flue types: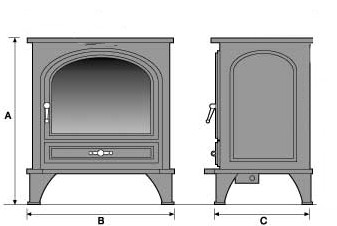 Heat Output : 3.5KW
Efficiency : 100%
Fuel Type : Logs
Air vent required : Yes